Regatta for friends launches a new format of yacht trips – PARUS Only . These are cheap trips to comfortable warm countries with a well-developed yacht infrastructure. PARUS Only is a trip for those who are just discovering yachting, wanting to try this type of holiday in familiar familiar countries. For those who want to enjoy only the sea, sail and a great company without additional excursions and ground program. For those who simply love yachting and want to sail all their holidays and vacations.
We still care about your comfort, so we still guarantee modern comfortable boats not older than 5 years, experienced captains, basic skills in sailing yacht management, and meeting new interesting people.
Event programm
Italy is one of the most popular countries for yachting. It is famous for its mild climate, abundance of attractions, beautiful coast and good yacht infrastructure. The Tuscan coast of Italy is a favorite vacation spot not only for tourists from all over the world, but also for Italians themselves.
We will go on a trip on comfortable cruising sailing yachts from Marina di Scarlino to the islands of Elba, Capraia, Pianoso, Monte Cristo.
During our trip we are waiting for stops in picturesque bays, walks in beautiful cities with restaurants and shops, swimming in the open sea, delicious food and excellent Italian wine!
Route Map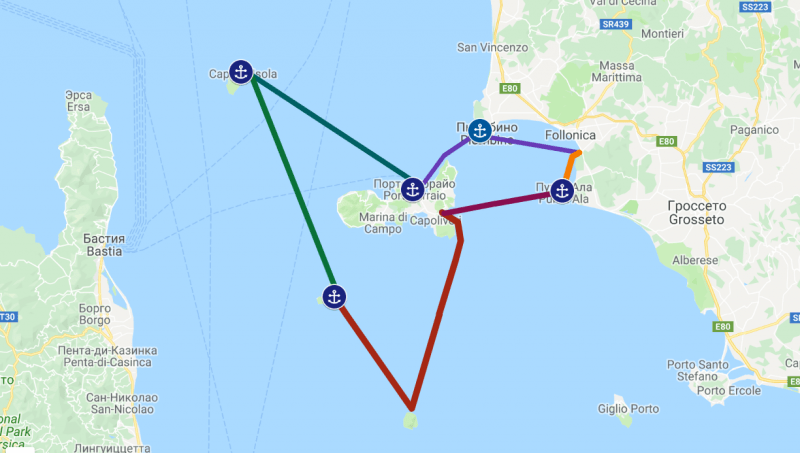 *the rout could be changed by captain due to weather conditions
Meeting point
Marina di Scarlino
Show on map
Participation options:
You can rent a yacht through us and assemble your team;
Register as a member of one of the crews.
For the first option, the captain should be on board with the right to control the sailing yacht and at least one experienced participant whose skill allows you to manage the yacht in the absence of the captain (this is where your logbooks that we gave you at past events will be useful)
For the second option you need:
desire to participate;
have inexhaustible positive and cheerfulness;
understand that the captain on the boat – the main
To participate you must:
tell us about your desire;
meet with the organizers for more information about the event and personal acquaintance;
make a prepayment / full price;
arrive at the appointed time and place
What is included
a place in the cabin;
final yacht cleaning;
boat with outboard engine;
bed linen and towels;
gas for the stove;
fresh water refill;
basic sailing skills training.
What is not included
transfer to marina (meeting point);
food;
docking in marinas;
fuel for the yacht;
personal medical insurance;
personal sailing logbook;
event sailing guide;
returnable security deposit;
visa
personal expenses and souvenirs;
blackjack and other pleasures 🙂
Cost
Cost *: 780 €
The price is per person based on double occupancy in the cabin.
Specify the cost of single occupancy in a double cabin in addition.
* Payment is accepted in rubles at the rate of the Central Bank on the day of payment + 2.5%
Additional services
Travel Coordinator:

daily support from 7.00 to 23.00;
assistance in the selection of tickets and connections;
booking hotels (when docking) on ​​the way to the place of the beginning of the journey and back;
transfer order and coordination;
assistance in organizing medical assistance and baggage tracing;
advice on a package of documents for a visa, entry to visa centers;
Departure across Moscow in a convenient place and time for payment and signing of the contract;
personal information, reporting of any important information about the journey, not only through group chat, but additionally, in any convenient online way.

The cost of the service is 15 000 rubles.

Professional photo shoot and photo book.

The cost of services on request.
Book now
Boats Involved
Bavaria 45 Cruiser (2013)
Manufacturer: Bavaria
Model: Bavaria 45 Cruiser
Manufacturing year: 2013
Dimensions: 14.27m * 4.35m
Max. number of passengers: 8+1
Number of cabins: 4
Number of heads: 3

Other features
220 V cable
Webasto heating
CD radio
Cockpit shower
Dinghy
Outboard engine
Mainsail full batten
Genoa furling
Lazy Bag
Sprayhood
Baby net (optional for sailing with kids)
Bavaria 45 Cruiser (2012)
Manufacturer: Bavaria
Model: Bavaria 45 Cruiser
Manufacturing year: 2012
Dimensions: 14.27m * 4.35m
Max. number of passengers: 8+1
Number of cabins: 4
Number of heads: 3

Other features
220 V cable
Webasto heating
CD radio
Cockpit shower
Dinghy
Outboard engine
Mainsail full batten
Genoa furling
Lazy Bag
Sprayhood
Baby net (optional for sailing with kids)