Yachting in Mexico – explore the coast of Mexico with Regatta for friends. This seven day sailing itinerary starts and ends in La Paz, allowing you to explore the Gulf of California and California Bay islands.
Our yacht trip starts from the marina of La-Paz. In a week we will walk along the coast of California peninsula.
Event programm
March 2. Meet the crews, check-in on yachts, purchase of products, safety briefing, acquaintance – cocktail party.
March 3. We set off for Ensenada Grande, a popular parking lot with turquoise waters, high rocky cliffs and snow-white beaches. On the beach, you can walk, relax on the beach or enjoy swimming and snorkeling along the rocky shoreline.
March 4. Located near the northwestern tip of Isla Partida, the rocky islets of Los Islotes are known to be one of the few places where you can swim with sea lions in their natural environment. Boats on the national park buoys are moored on the north and south shores. Go to El Bachito for snorkeling or to the nearby fishing village of San Evaristo and spend the night at a secure anchorage.
March 5. We sail to Isla San Francisco, a popular crescent-shaped bay camp, bordered by snow-white beaches, red rocks and crystal clear waters. In this picturesque bay you can have a great walk, dive with a mask and snorkel, go fishing or just sunbathe on the beach. The bay is big and can accommodate many boats.
March 6. Transition to Amortahada, to the south-western tip of San Jose. Getting up to the anchorage, you can take a boat or kayak to explore the main lagoon, passing through the mangroves. Take your binoculars to observe the herons.
March 7. We go to Isla Espiritu Santo and its most beautiful beach in the bay of Bahia San Gabriel, and then to the rocky western coast of Punta Prieta and the southern point of Ensenada de la Dispensia for fantastic snorkeling.
March 8. Trek to Puerto Balandra with eight pristine white beaches and an inner lagoon with El Khong rock formation, also known as a mushroom. In the shimmering blue water, you will see many colorful fish and corals that will delight swimmers and snorkellers. After lunch, we return to the home marina.
March 9. We hand over the boat, hug and say goodbye to new meetings under sail.
This event includes not only yachting, but also freediving. Under the guidance of an experienced instructor, you will learn natural immersion in water and receive the appropriate certificate.
*The rout can be changed due to weather conditions.
Route Map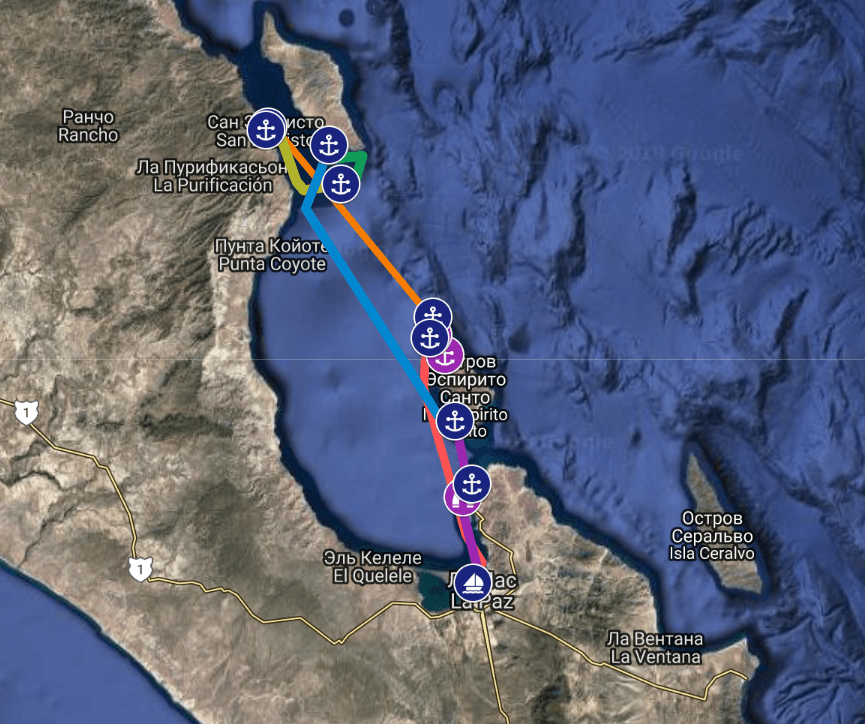 *the rout could be changed by captain due to weather conditions
Meeting point
Marina La Paz
Show on map
How to get to meeting point
Flights to Mexico city
Internal flight to La Paz
Participation options:
You can rent a yacht through us and assemble your team;
Register as a member of one of the crews.
For the first option, the captain should be on board with the right to control the sailing yacht and at least one experienced participant whose skill allows you to control the yacht in the absence of the captain (this is where your logbooks will be useful).
For the second option you need:
desire to participate;
have inexhaustible positive and cheerfulness;
understanding that the captain is the only one who makes decisions on a yacht and everybody must follows his instructions.
To participate you must:
Express your desire in any way possible (on the website, email, phone, message);
meet with the organizers for more information about the event and personal acquaintance;
make a prepayment / full price;
arrive at the appointed time and place
What is included
a place in the cabin;
docking in marinas;
fuel for the yacht;
final yacht cleaning;
boat with outboard engine;
participation in Regatta for friends events;
personal medical insurance;
bed linen and towels;
personal sailing logbook;
event sailing guide;
gas for the stove;
fresh water refill;
basic sailing skills training.
What is not included
ground program in Mexico City (approximate cost, taking into account flights Moscow-Mexico City-Moscow and Mexico City City-La Paz-Mexico City, staying at a 4 * hotel, food and excursions 1500 Euro);
transfer to marina (meeting point);
food;
returnable security deposit;
visa
personal expenses and souvenirs;
blackjack and other pleasures 🙂
Cost
Cost *: 1500 € + 500 € freediving (optional)
The price is per person based on double occupancy in the cabin.
Specify the cost of single occupancy in a double cabin in addition.
* Payment is accepted in rubles at the rate of the Central Bank on the day of payment + 2.5%
Additional services
Travel Coordinator:
daily support from 7.00 to 23.00;
assistance in the selection of tickets and connections;
booking hotels (when docking) on ​​the way to the place of the beginning of the journey and back;
transfer order and coordination;
assistance in organizing medical assistance and baggage tracing;
advice on a package of documents for a visa, entry to visa centers;
Departure across Moscow in a convenient place and time for payment and signing of the contract;
personal information, reporting of any important information about the journey, not only through group chat, but additionally, in any convenient online way.
The cost of the service is 15 000 rubles.
Professional photo shoot and photo book.
The cost of services on request.
Cook / hostess services by boat.
The cost of the service is available on request.
Book now
Boats Involved
Lagoon 450 F (2018)
Manufacturer: Lagoon
Model: Lagoon 450 F with watermaker & A/C - PLUS
Manufacturing year: 2018
Dimensions: 13.96m * 7.87m
Max. number of passengers: 12
Number of cabins: 6
Number of heads: 4

Other features
Air Conditioner
Self tailing winches
Dinghy
Davits for the dinghy
Outboard Engine
Swimming ladder
Electric Toilet Pump
Jack for MP3 – i-pod/phone
Main Sail battened
Roller Genoa
Lazy Jacks with Lazy Bag
Bali 4.5 (2017)
Manufacturer: Bali Catamarans
Model: Bali 4.5 with watermaker & A/C - PLUS
Manufacturing year: 2017
Dimensions: 13.60m * 7.42m
Max. number of passengers: 12
Number of cabins: 4+2
Number of heads: 4

Other features
Air Conditioner
Cabin Fans
Radio Fusion with bluetooth
CD player
Electric Toilet Pump
Electric Winch
Self tailing winches
Main Sail battened
Roller Genoa
Lazy Jacks with Lazy Bag
Cockpit Shower with hot/cold water
Dinghy
Davits for the dinghy
Outboard Engine
Swimming ladder
Water maker