«Regatta for friends» invites you to become a part of a great international team consisting of people who miss the sea and sails. Our participants are from Russia, Italy, France and other countries.
We are going to enjoy an amateur race on sailing yachts in the Mediterranean: around the French island Corsica. Will you join?
Sailing race at the highest level
What is awaiting us: daily sailing race, where each of you is an irreplaceable crew member. At the end of our journey, the top three teams will receive cool prizes! We always pay particular attention to safety precautions. We love the excitement, but safety and yachting for pleasure – that's our real credo!
Positive vibes and many new friends
"What about relaxation?" – you may ask. It is the part of the program! Races will be held in the mornings, and the afternoons will be devoted to communication between participants from different countries, swimming, parties and picnics. It will be exciting, fascinating, we will have a lot of fun!
We are sure that the most valuable thing is communication with interesting people, and there will be many of them! It's our tradition to build carefully each team by the selecting approach participant for the race. Each yachtsman of the "Regatta for friends" is part of the team, a bright personality with a fascinating hobby and an active lifestyle, enthusiastic and full of energy. It would be difficult to enjoy the life on a yacht differently.
Join us now! Special skills are not required, our captains will teach you everything in the process and during trainings. There are still places in the crews. The main things you need are desire and positive vibe! You can also assemble your crew and book a boat with our help.
Since the crews will be international, knowledge of the English language is your advantage, so you can feel comfortable and could communicate with all participants.
Event programm
OUR ROUTE*
Meeting point – Marina of Ajaccio (Corsica, France)
Day 1.
Welcome zone in Ajaccio, check in and hosting on the yachts, food shopping
Welcome dinner. Regatta opening ceremony
Day 2 (26 miles)
Ajaccio – Propriano.
Day 3 (36 miles)
Propriano – Bonifaccio
Day 4 (12 miles)
Bonifaccio – Budelli.
Day 5 (10 miles)
Budelli-Ile Piana
Day 6 (38 miles)
Ile Piana-Propriano
Day 7 (26 miles)
Propriano – Ajaccio. Return to the starting Marina of Ajaccio
*The route can be changed by the decision of the captain due to weather conditions.
Route Map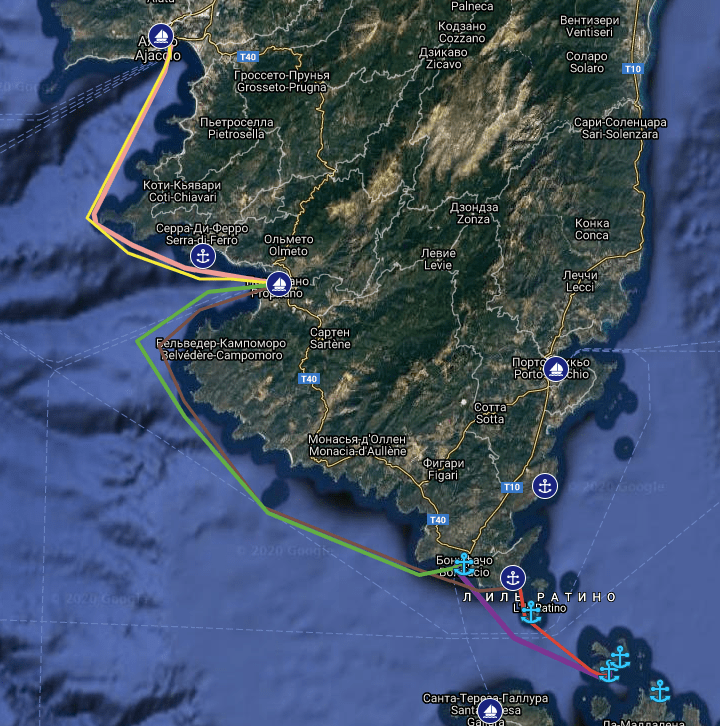 *the rout could be changed by captain due to weather conditions
Meeting point
Marina of Ajaccio (Corsica, France)
Show on map
Participating options
You can rent a yacht through us and assemble your team;
You can join one of the crews as a member.
For the first option you need:
there should be a captain licensed to control the sailing yacht
at least one experienced participant, whose skills allow to control the yacht in the absence of a captain
For the second option you need:
desire to participate;
possession of an inexhaustible positive and cheerfulness;
understanding that the captain makes decisions on the yacht and any inappropriate behavior will result the inevitable drop-off of the revolutionary.
How to confirm your participation:
contact us using any possible way (on the site, by e-mail or phone, via message on Facebook);
meet with the organizers for getting detailed information about the event and personal acquaintance;
make the pre-payment/ full payment in advance;
arrive at the appointed time and place.
What is included
Accommodation on yacht (place in the cabin);
bed linen and towels;
final cleaning;
motor for dinghy;
skilled captain;
the work of a judge during competition;
evening entertainment.
What is not included
Arrival at the meeting place;
meals (on board and in restaurants, cafes);
dinner for the opening and closing of the regatta
parking in marinas;
fuel;
yacht insurance or return insurance deposit (200 € per participant);
personal insurance with an extension to outdoor activities;
visa;
personal expenses and souvenirs.
Cost
1) For joining one of the crews as a member
€1100 per person
(see above what is included)
The price is set for 1 person, double occupancy.
In case of single occupancy request the cost additionally
2) For renting only boat (you have your own team assembled)
If you have a crew and a captain, then you can rent a yacht though us by paying the rental price and regatta fee
Regatta fee:
1350 € per/boat with 3-4 cabins
1550 € per/boat with 5 cabins
3) If you want to join regatta with your boat, contact us and we'll discuss the participation
Refundable security deposit:
3-4 cabins boats – 4000 euro
5 cabins boats – 5000 euro
The fuel, marina & docking fees, all meals, snacks and beverages are supposed as extra services, which require additional payment. These expenses are divided equally between the crew members (approximately 200 euro per person per week)
Additional services
If you do not have time / desire to deal with preparatory and organizational issues – we are ready to help you. Order a travel coordinator service, which includes:
Everyday support from 7 a.m. to 11 p.m;
Assistance in selecting flight connections and air tickets booking;
Hotel booking (during flight connections) on the way to the meeting point and back;
Transfer order and coordination;
Assistance in organizing medical care and baggage tracing
Consultation on visa documents required, registering for visa applying in visa centers
Personal informing, reporting about any important travel info not only via group chat, but also directly via any convenient online way.
Service cost – 200 €
Book now
Boats Involved
Sun Odyssey 469 (2015)
Manufacturer: Jeanneau
Model: Sun Odyssey 469
Manufacturing year: 2015
Dimensions: 14.05m * 4.49m
Max. number of passengers: 8+2
Number of cabins: 4
Number of heads: 4

Other features
220 V cable
CD radio
Dinghy
Mainsail Furling
Genoa furling
Cockpit shower
Sprayhood
Electric windlass
Baby net (optional for sailing with kids)
Sun Odyssey 519 (2017)
Manufacturer: Jeanneau
Model: Sun Odyssey 519
Manufacturing year: 2017
Dimensions: 15.38m * 4.69m
Max. number of passengers: 10+2
Number of cabins: 5
Number of heads: 3

Other features
Mainsail Battened
Genoa Furling
Sprayhood
Dinghy
220 V cable
CD radio
Teak cockpit
Cockpit shower
Electric windlass
Baby net (optional for sailing with kids)
Oceanis 48 (2018)
Manufacturer: Beneteau
Model: Oceanis 48
Manufacturing year: 2014
Dimensions: 14.60m * 4.74m
Max. number of passengers: 10+2
Number of cabins: 5
Number of heads: 3

Other features
inverter 12v/220v
220 V cable
Dinghy
Outboard engine
Audio (USB, AUX, Bluetooth)
Cockpit speakers
Cockpit shower
Genoa furling
Mainsail furling
Sprayhood
webasto
Bimini top
electric toilet (3)
Snorkeling set
Baby net (optional for sailing with kids)
Dufour 520 GL (2018 г.)
Manufacturer: Dufour Yachts
Model: Dufour 520 GL
Manufacturing year: 2018
Dimensions: 15.2m * 4.8m
Max. number of passengers: 10
Number of cabins: 4
Number of heads: 3

Other features
220 V Socket
Inverter 12V/220V
Cabin Fans
Plancha
Refrigerator
Roller Genoa
Dinghy
Electric Anchor Windlass
Outboard Engine
Swim Platform
Swimming ladder
Sprayhood
Sun Odyssey 469 (2016г.)
Manufacturer: Jeanneau
Model: Sun Odyssey 469
Manufacturing year: 2016
Dimensions: 14.05m * 4.49m
Max. number of passengers: 8+2
Number of cabins: 4
Number of heads: 4

Other features
220 V Socket
Inverter 12V/220V
Cabin Fans
CD player
Jack for MP3 – i-pod/phone
Gas Stove Oven
Electric Fridge 12V
Roller Genoa
Lazy Jacks with Lazy Bag
Dinghy
Electric Anchor Windlass
Outboard Engine
Swimming ladder
Sprayhood